$200 OFF YOUR SKEE-BALL DELUXE GAME + FREE SHIPPING, NOW THRU MOTHER'S DAY!
EXCLUSIVE OFFER FOR MOM ♥
Nothing says nostalgia and brings back special memories for Mom like an authentic Skee-Ball game.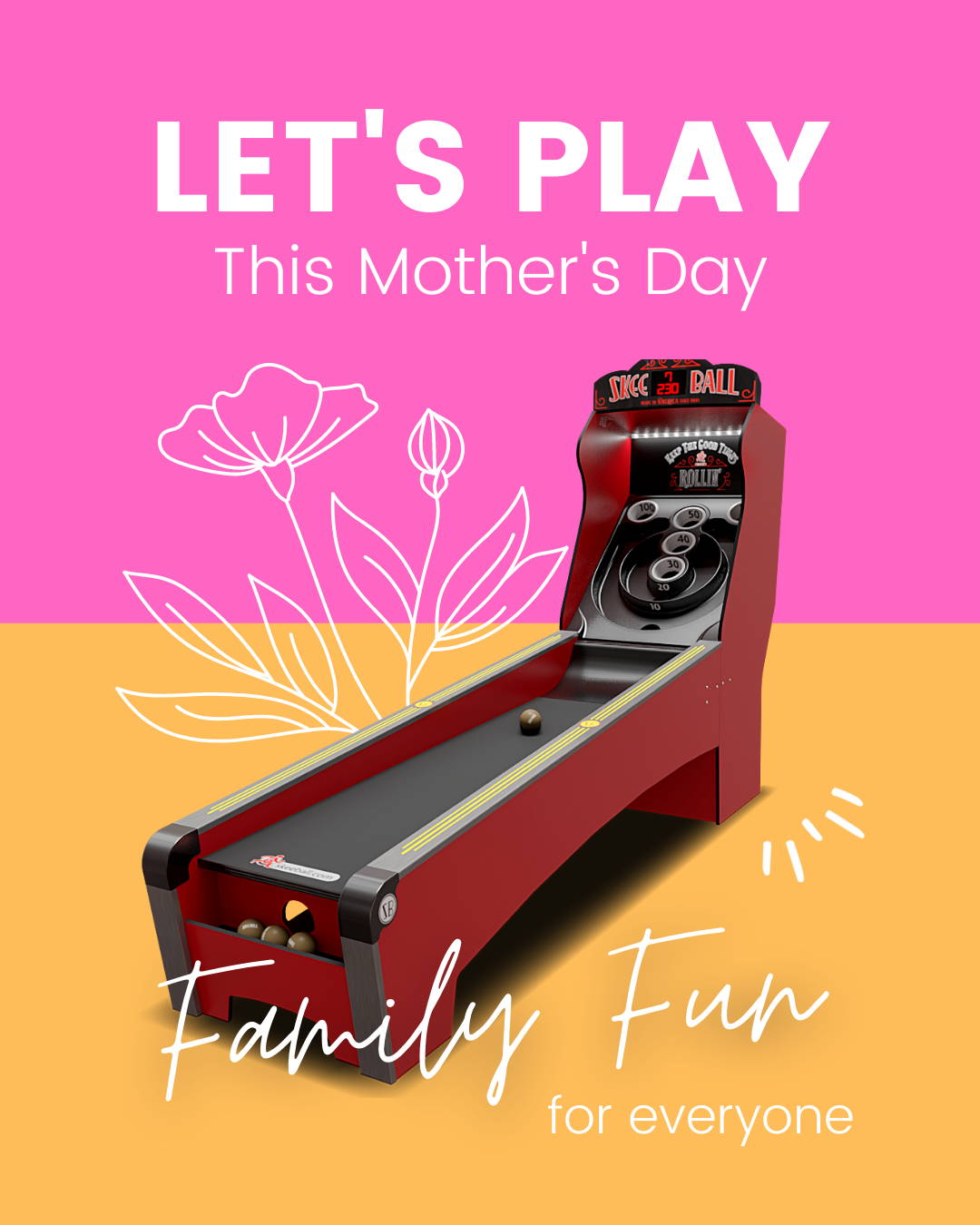 wrap your mother with love
Still looking for the perfect gift this Mother's Day? We got you covered. Choose from our delicate gift set collection or customize your own.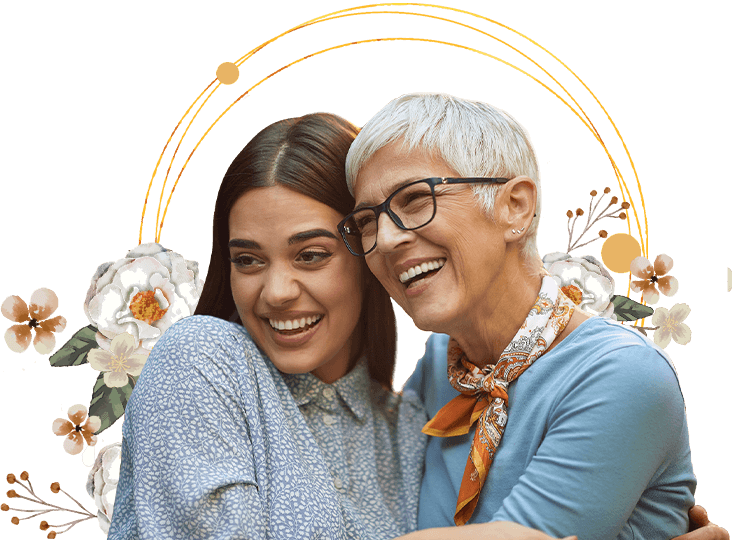 "My mother will definitely love this!
"Was desperately finding a themed gift set for my mom - a flower lover when I discovered this gem. Took only a few minutes to order and it came right the next day! Totally satisfied with the scarf quality and the little details they put in every gift really make the difference."
Still looking for the perfect gift this Mother's Day? We got you covered. Choose from our delicate gift set collection or customize your own.

COUNTDOWN TO mother's day:

Classic play field with "hundo" targets

Authentic sounds and ball hop

Quality, home-friendly balls



Digital scoring and ball count
Single Player or 2-Player challenge mode
Arrives partially assembled on single pallet
Runs on batteries or wall outlet
Made in the USA
Assembled Dimensions: 24"W x 103"L x 65"H
Weight: 190 lbs.
The Skee-Ball Deluxe comes fully assembled in two parts on one pallet, so all you need to do is connect the two parts. It's easy, but find a friend, because technically the sections should be lifted by two people. And, life is more fulfilling with a friend.
What does that LOOK like? Check out the next tab.
the actual fit in your house
Dimensions are 8'6" in length by 2' wide by 5'4" tall.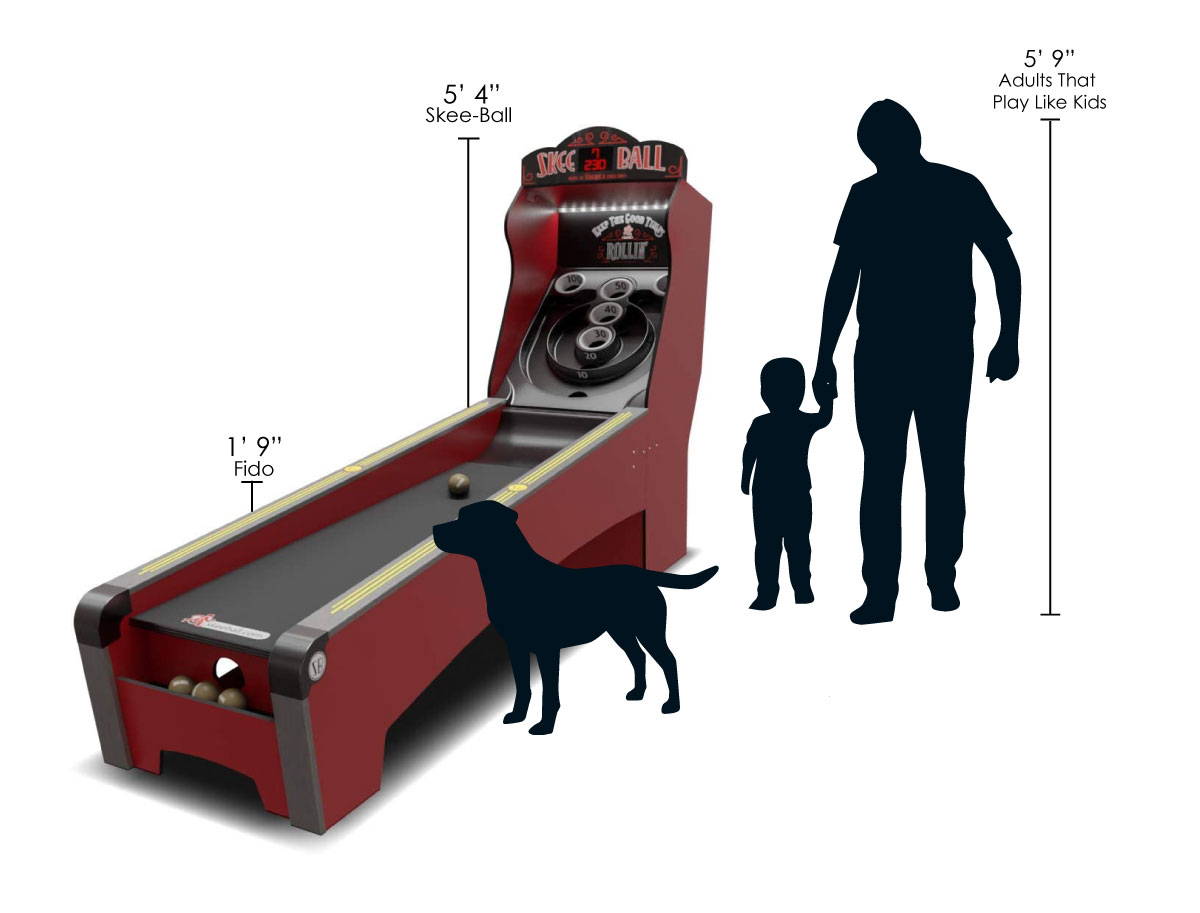 This product is covered by a warranty that is effective for 90 days from the date of purchase. If during this 90-day period, a part is found to be defective or breaks, we will offer replacement parts at no cost.
This warranty only applies to the original product purchase.
The warranty is void if the product has been modified or repaired or if it has been damaged as a result of accident, abuse, misuse, loss of parts, neglect, weather, acts of God, any action or omission which constitutes a deviation from operating instructions, or any other causes not arising out of defects in workmanship or materials.
All warranty claims must be made, in writing and sent to service@baytekent.com and received on or before the last day of the Limited Warranty Period.
This Warranty gives you specific legal rights and you may also have other rights that vary from one state providence, or country to another.
Register your Skee-Ball® at skeeball.com/register.
WARNING: This product can expose you to chemicals including wood dust, which is known to the State of California to cause cancer. For more information go to – www.p65warnings.ca.gov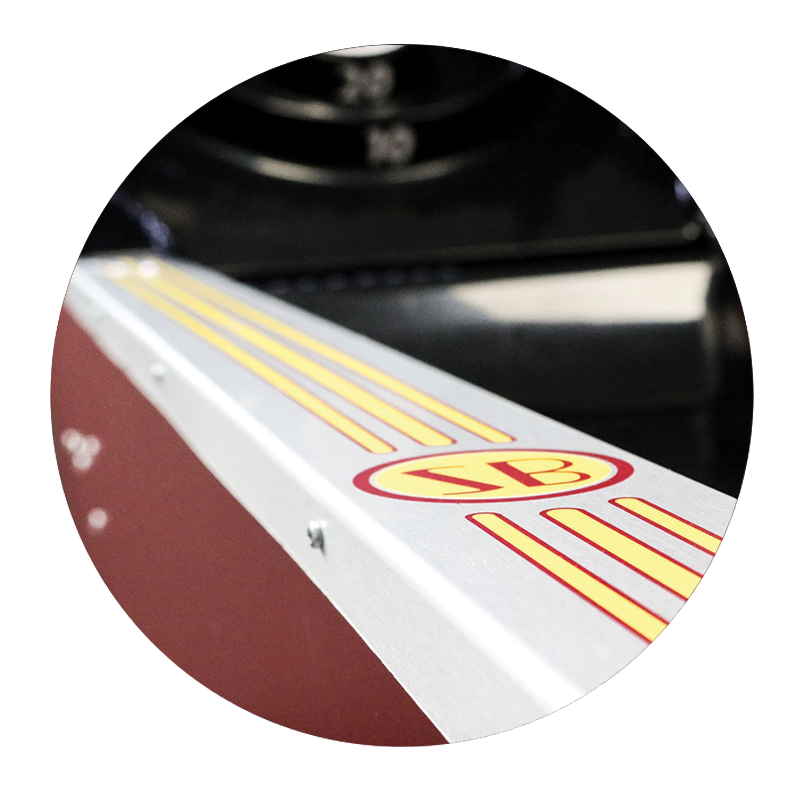 PREMIUM QUALITY ARCADE MACHINE
Features rich burgundy colored, durable construction and classic design for an affordable arcade game with a classic and THE ONLY authentic Skee-Ball look and feel.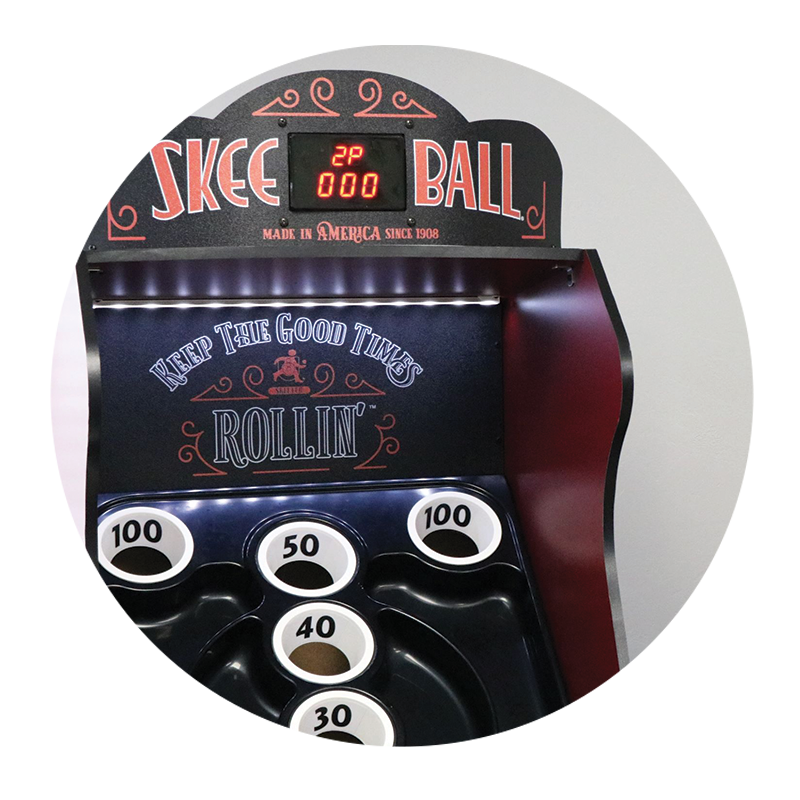 PERFECT FOR HOME GAME ROOMS
Includes four Skee-Ball branded rubber balls with digital scoring and ball counter. Why four? See our FAQ. It's the perfect addition to any rec room, man cave, she shed, or basement.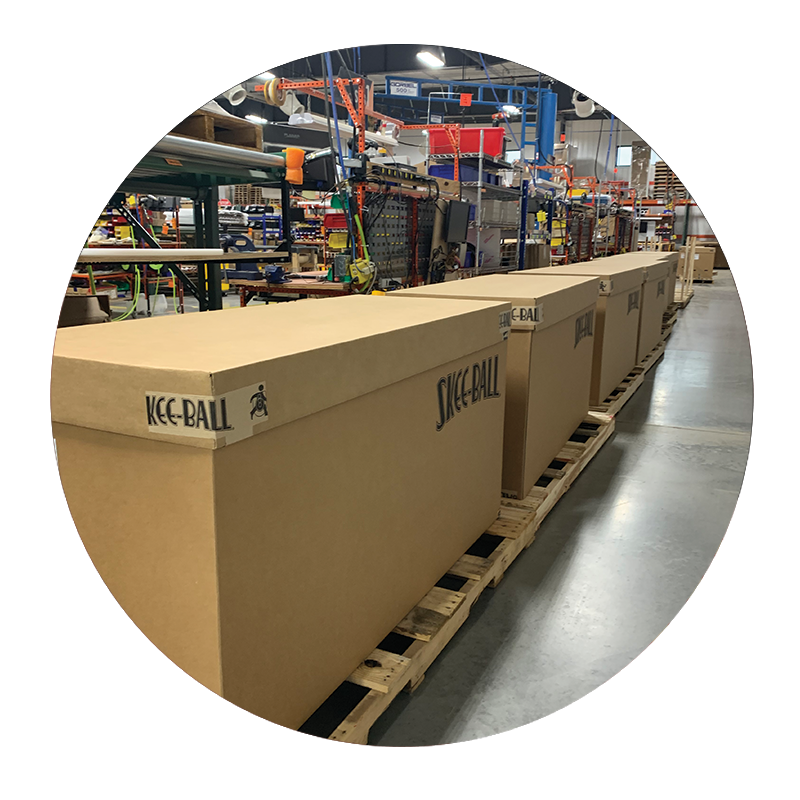 HANDCRAFTED AND BUILT IN THE USA
Made with the same quality and attention to detail as arcade models (built using the same process)! In a home-friendly footprint - 8'6" long by 2' wide by 5'4" tall.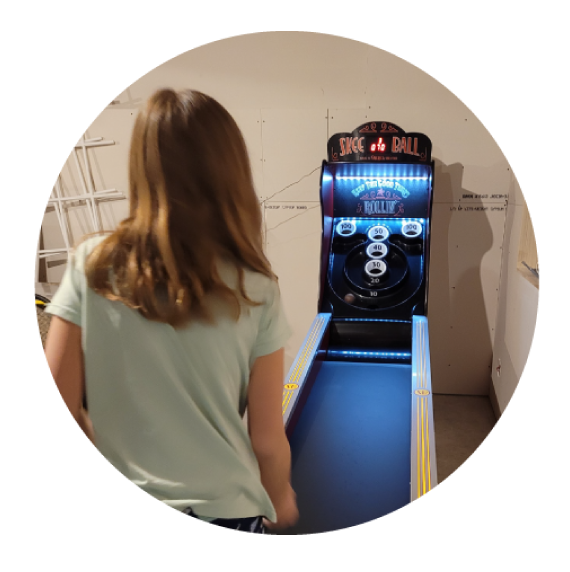 Kids, adults, and grandparents alike will love both the single player and 2-player challenge mode. High-fives, fist bumps, and bragging rights are encouraged!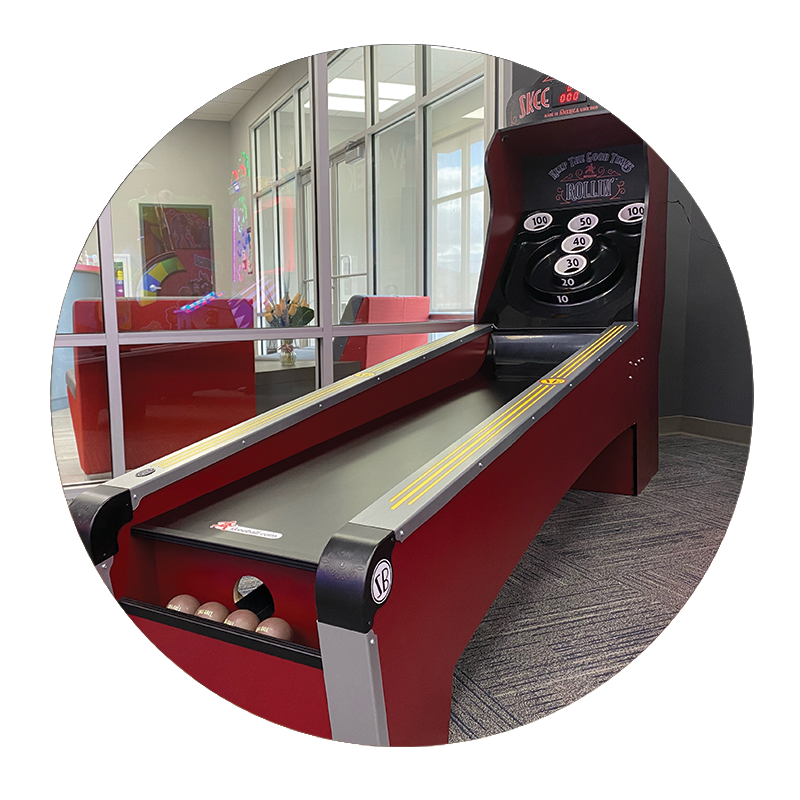 SET UP AND PLAY IN LESS THAN 30
Delivered 90% assembled in two boxes on one pallet, Skee-Ball Deluxe is simple to assemble for hours of arcade-style game fun! Want a sneak peek? See here for the Owner's Manual.
FREQUENTLY ASKED QUESTIONS
Where does my Skee-Ball Deluxe come from?
Skee-Ball Deluxe arcade cabinets are made and shipped from good ol' Pulaski, Wisconsin (USA), just outside of Green Bay - home of the Pulaski Polka Days, Skee-Ball, and of course, the Green Bay Packers. Your Deluxe is handmade, in house, with the same quality and attention to detail as any original Skee-Ball alley you'd find in the arcade.
How does the Skee-Ball Deluxe arrive at my house?
Partially assembled on a single pallet. Installation is quick and easy, and it runs on batteries or a wall outlet. We're all about spending the least time working and the most time playing - for you, that is. It's easy, but find a friend, because technically the sections should be lifted by two people. And, life is more fulfilling with a friend.
Is there a two player option?
Yes, there is a two player challenge mode! Here are the same arcade style rules:
- Each player rolls 9 balls up the ramp into the targets.

- Watch the display to keep track of your ball count!
- Highest score wins!
High-fives, fist bumps, and bragging rights are encouraged. Game on.
What if I live by my own rules?
Own it. We've got some alternative game options, if you want to get wild and go rogue:
1. Hundo Rally: Players aim only for "hundo" targets.
2. No Look-Skee: Players roll 9 balls blindfolded
3. Around the World: Players aim for 10 - 20 - 30 - 40 - 50 - 100 - 10 - and 20 target.
4. Black Out: Players must hit each target once.
5. Make up your own game and share it with us on the interwebs: @officialskeeball #skeeball
Talk to me about the "home friendly balls," and why are there only four?
Deluxe uses a high density rubber ball. The game play is the same, but the feel is different as it is a lighter weight ball. Or as we say a "dry wall" friendly ball!
Balls collect and auto-return in the front, rather than down the side, which means there's only room and only need for 4 - because they'll keep coming back. The digital display keeps track of ball count and score, so the game play is the same as the arcade, with more accessibility.
I love Skee-Ball - is this the real deal?
This is it. In 1908, Joseph Fourestier Simpson of Vineland, N.J. applied for a patent around a new game idea that had a "skee-jump" mechanism on an alley to launch a ball into targets that had a built in automatic scoring mechanism - the foundation of the Skee-Ball we have all come to know and love.
Fast forward more than a century, Skee-Ball has become more than an icon and a brand, it's become a household name, that sparks joy related to all the happy memories it evokes. We love what we do, and we love to play more - so if you're thinking about adding a Skee-Ball to your home arcade, basement, man cave, rec room, or anywhere people gather together at home, consider a Skee-Ball Deluxe, Skee-Ball Premium, Skee-Ball 1908, Skee- Ball Classic, or Skee-Ball Glow.

Anything else is just an imitation of The Original Alley!
I want the arcade experience - the sounds, the play, everything - will this give it to me?
Yes! Save for the physical footprint, this includes the original Skee-Ball sounds, the same game play, and the same hours of fun and years of memories made.
Can I see it in action before I buy?
If you're in the neighborhood (or driving distance) from Wisconsin - come visit us! We'd love to show you around and play a friendly game of Skee-Ball Deluxe. If not, unfortunately at this time, our Deluxe models are only sold online. Our Skee-Ball Premium models, should you like to see a similar game, are available through our robust dealer network, across the contiguous United States. Find a location near you in our Skee-Ball Dealer Network.
If I find myself on LifeStyle77.com, or seeing Skee-Ball Deluxe tied to LifeStyle77 - what gives?
Great question, but not to worry! LifeStyle77 is the sister company of Bay Tek Entertainment, the manufacturer and owner of the Skee-Ball brand. LifeStyle77 was founded in 2020, inspired by Bay Tek (which was founded itself in 1977), as a way to bring you premium lifestyle products and in-home games - like Skee-Ball Deluxe. Similar to Bay Tek, the LifeStyle77 goal is simple - to create experiences that bring people together.
Not only is LifeStyle77 a safe, reputable place to bring your Skee-Ball game home, it is the primary eCommerce channel for our Skee-Ball at Home models, games like Pac-Man, Polycade, and more. Take a look: LifeStyle77.com
Questions, thoughts, comments, ideas? Let us know, we'd love to chat!